Grammy Night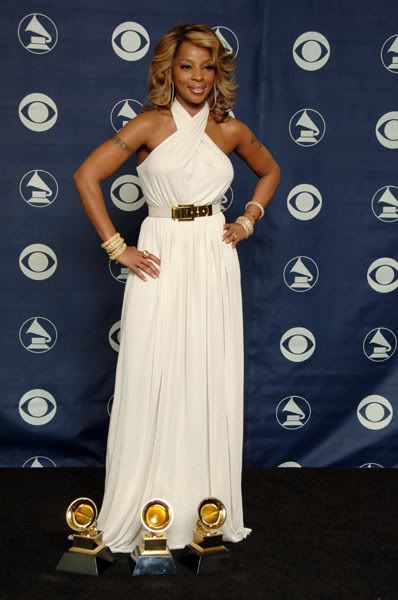 I missed the first 40 minutes but here's my run-down on last night's show:
1: Mary J. Blige's performance was outstanding! She looked stunning and sophisticated in her silver-white gown (got rid of that diamond tooth). And the whole opera-inspired set was one bit over the top cause MJB was giving us mad royal-flav, divaesque divinations and Kathleen Battle hair. I'm not even one of those chicks that's just crazy about Mary just cause. Honestly I think half the time when she sings her off pitch shrill is not cool. But last night her vocals were strong and sweet like Jamaican coffee on a breezy morning. When she came out later in that red jumpsuit I was floored. Mary looked and sounded better than ever! Last night was ladies night and our grrrl just made us all so proud!
2. On the flip side what the heck was Corinne Bailey Rae doing on stage last night? I kinda like her and her boheme booty but she sat there and strummed all of three notes last night and sang like she was in her bathtub. Does she even know how to play the guitar? Or better yet does she have a pulse?
3. Cee-lo has got the most beautifullest teeth and smile!
4. The audience gave Justin Timberlake a standing ovation, but not Ornette Coleman What the frack?
5. Common is too cute. Is he
still single
?
6. Was Smokey wearing a Black lace shirt or was my cable just screwed up and didn't he look bug-eyed like he had just seen a ghost or maybe he just made eye contact with
Imogen Heap
?
7. And why is Lionel Ritchie still the ishniz! I mean I was singing
Hello
and thinking about that song and how in 2007 it's still fresh and hot like cornbread and warm maple syrup.
8. Christina Aguillera singing It's a Man's World?!? Damn I really wanted to be mad at this Latina/Europhile for thinking she can sing a song so connected to Black Male Power and Identity, but she kinda killed it. Okay she murdered it! Did you see Jamie Foxx's expression afterwards? Honestly I don't think he would have been able to pull it off (I think he knows it too and so that's why he had to give CA a nod up). The same holds true for R. Kelly and Prince although I think their versions would be interesting, they may not really be fitting tributes to the Godfather of Soul. And I'm so glad they didn't have what seems like the new progenitors of soul and R&B—Justin Timberlake or Robin Thicke—perform it. Grrrls like Alicia Keys and even MJB would have given it a nice try, but that's about it. Yeah Christina did JB justice, but I still wish a brother sang that joint. Corey Glover, D'Angelo or even Anthony Hamilton would have surely turned that mutha out.
9. Okay I didn't realize how many legends in music we had lost in the past year-- Ahmet Ertegun, James Brown, Billy Preston, Ruth Brown, Arif Mardin, Gerald Levert...
10. Did Tony Bennett's "I Left My Heart in San Francisco" somehow inspire Tribe's "I Left My Wallet in El Segundo"?
11. I don't care what anybody says Gnarls Barkley's "Crazy" was the song of the year. That joint was played everywhere and loved by so many and the thought that they may have been snuffed because they turned down an offer by McDonalds which would have made "Crazy" soar into Golden Arch ubiquity should be counted as a win and not a loss.
12. The end of the show couldn't have been more anti-climatic. I like the Chili Peppers but they didn't get it up. Maybe that's what happens when they don't rock in
their socks
.
Labels: Christina Aguillera, Mary J. Blige, music, television