Couch Potato Nights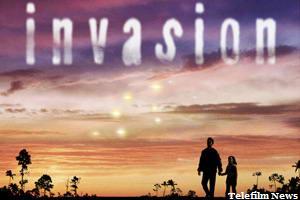 Aaaah the new season of t.v is really starting to percolate. This past summer was the absolute worst in terms of boob tubing with the exception of an occasional episode of Battlestar Galactica, Entourage and being able to catch missed episodes of Lost, there really wasn't anything popping. But with a new fall season, and in this case, a beautiful albeit soggy Indian Summer, there comes a crop of new shows and premieres of old ones alongside the sweetest squash and most tender collards a mild autumn can produce. So far here's what I'm feeling:
INVASION
: I love sci-fi so the idea of some alien species dropping to earth under the camouflage of a hurricane is enough to keep me in front of the tv every Wednesday night. Yeah I know the plot screams War Of The Worlds meets Invasion of The Body Snatchers (the extraterrestrials live in the swampy lakes of the Florida Everglades and take over the bodies of unsuspecting folks while in the water resulting in the victims later reappearing wet, naked and personality-less), but the acting is quite good. And the fact that this show revolves around the possibility that natural disasters aren't so... errr
natural
and that Katrina, Rita and Wilma are causing havoc here and earthquakes in the middle east are devasting real countries, raises my brows and my interests that much more.
Of course airing right after Lost doesn't hurt either because Lost is still killing it with the mystery of the oddly sequential numbers and the hatch and now with my grrrl Michelle Rodriguez on the isle running thangs.
SURFACE: This was one of my favorites but here recently this show which I also thought was a Maritime version of War of The Worlds is turning more into ET meets
The Magic Garden
. Oh well, but who cares when you have
THRESHOLD
which I was just discovered last week. It's really smart and is ingeniously blending my love for criminal detective dramas with Sci-fi-- an X-Files meets CSI type of show.
On the Food Network,
Paula's Cooking Class
extends the concept of her regular show
Paula's Home Cooking
one step further and cooking it's great. This women is Southern in all the best ways, she's funny, charismatic, loves to get dirty with her food, and has a zest for life and nature and
butter
.
She is so much better than parolee Martha Stewart whose show is really painful to watch. The last time I tuned-in she had Diddy on their trying to teach her how to rap. I expect that from the Puffmeister of hiphop commodification, but I thought Martha would have had more to offer. I loved Martha, pre-prison, with all of her domestic snobbery. Back then she would never have The Did on her show, let alone near her cooking utensils. It's an era of Blue State capitalism though where everybody is scrambling and I guess she too has to answer to the ratings god-- Nielsen.
I still got a love jones for Reality TV and as much as I hate to admit it, I'm not feeling
America's Next Top Model
as much as I used to. I think it's something about filming in LA that really takes away the edge and leaves everything and everyone so damn petal soft that I forget to tune-in. And oh yeah can someone please wake-up
Twiggy
?!
On the flipside though and I hate to say it, probably even more than my ANTM mention, but I really like
The Ultimate Hustler
. Dame Dash has these thirsty urban wannabee moguls holed up in a Harlem brownstone rocking obligatory doggy tags around their necks and giving them what I like to call Black Music Department 101-like tasks-- doing everything from posting swipes to putting together a last minute showcase to securing strippers for wack rappers. It's a guilty pleasure that makes me shake my head in utter disbelief, despair and delirium. Unlike other reality shows like The Apprentice and ANTM, it's an interestingly weird position to have to "gaze" in on an aspect of business I know so very well and even were I know some of the players. This is how I felt watching the first two seasons of Making Of The Band. It's like I'm an anthropologist analyzing each scene making sure the producers and writers (y'all do know that a good part of reality television is scripted, right?) hold what I believe true to form. Ultimate Hustler is so much of what the music business, particularly on the urban side of the fence, has become--
gambling
, talking sh*t, uniformity, clear pump wearing girls and of course bling obsessed men. I say go head Dame (who is inadvertantly hilarious), continue to keep it real and get that cake! Although we all know in the real world of hiphop that
Seven
would have never been fired cause
stripping is hot
right now and seems to be openly accepted as par for the course of succeeding in the music industry... atleast if you are female and regardless of the
Tip Drill backlash
. Right
Karrine
?
Puff on the other hand with his Making The Band 3 is giving a veiled, up-jump-the-boogie but there's no beat playing version of what it takes to get a deal or create a successful band in the music industry today. I know he didn't put BIG or even that a horrible girl group Dream through the shenanigans he's got going on with these girls. He never made Faith run 6 miles through Central Park and damn, how much time do you have on
your
hands if you can afford to follow behind them in a buggy. It's clear he's trying to recreate the Spice Girls just in time for Destiny's Child's last call, but who cares?
Aubrey
is already a star and it's funny to me because something very interesting, it seems, has happened-- when you bring back someone with dynamic presence (at least more than anyone else on the show and increase their visibility), they get a lil powerful and I mean that in a visceral way. So I say all that to say he needs her now as much as she needs him. Well at least he isn't sucker punching his fans by throwing another gay man
(remember Jason-- "divas!")
into the mix just to create some manufactured ANTM-like drama. At least not this week!
And I guess I'm the only one who has yet to catch
Everyone Hates Chris
. I guess I'm watching, and I'm oh so embarrassed to admit this one, Laguna Beach, on the regular. Yep, well that's a load off! So I know I'm not the only couch potato with viewing issues! What do you watch in secret yet never miss an episode? C'mon I wanna know!